4 Painting Ideas You'll Love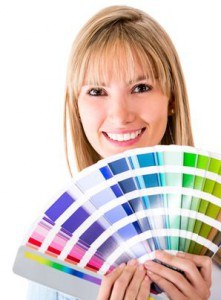 When it comes to your next painting project, why settle for mediocre results when you can get killer modern designs that really make statement? With all the new options available to you, painting your next room can be easier and more enjoyable than ever. It's time to get the creative juices flowing and let your personal taste and style shine through. Here are four ideas that can help you get your project off the ground.
Try Color Washing
A popular approach to modern interior painting is color washing. With color washing you can incorporate several colors into a rainbow-like fade from one color to the next or even a darker shade into a lighter shade of the same color. The fade can be a complete wash or defined by lines. One of the greatest features of color washing is that it allows you to incorporate a more abstract approach to painting. Without a clear definition the 'lines are blurred' so to speak and you have the freedom to go in any direction with the overall design.
Stripes Anyone?
Most homeowners approach their rooms with a narrow focus having one color in mind. And while solid palettes generally work in any environment, there dozens of ways to enhance your room with a multicolored design. One of the most radical moves is stripes. While stripes seems simple enough, it requires a a great degree of strategy in order to incorporate them into the overall room motif. Outside of the obvious blend between 2 or more colors, you also need to consider whether you're going horizontal or vertical or eve diagonal, the width of the stripes and several other factors. When executed properly, however, stripes can give your room that certain zing! that you've been looking for all along.
Faux Molding
Faux molding is a method of painting that creates a life-like 3-D design on your wall. With faux molding, you get the look of real molding but with an instant application right onto the walls. Faux molding adds a distinct touch of elegance to any wall. You can choose from lines and pin stripes to filled in shapes of all dimensions. The end result is a distinctive authentic look that intensifies any room and makes an impact that leaves a lasting impression.
Superior Stenciling
If you're looking for a more intricate and complicated design on your walls then stenciling might be your best strategy. Stenciling allows you to get extremely creative and detailed while offering a quick and safe strategy for your painting project. Another great benefit of stenciling is that it gives you the benefit of knowing what the pattern or design will look like before you ever put it on your wall. It never hurts, however, to test your stencil on another surface before committing it to a wall.