4 Reasons to Take Advantage of Professional Englewood Deck Staining Services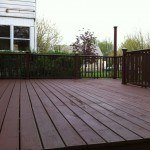 Having a deck on the back of your house makes taking advantage of the summertime more enjoyable. Whether you are throwing big BBQs, or having small family picnics, it is important that your deck is fully functional. The best way to protect your deck from the harsh outdoor elements is through a professional Englewood deck staining service.
As an outside home feature, your deck is exposed to the weather and outside life constantly. Wood that is constantly exposed without proper treatment will eventually start to decay. Not only will this make your deck unusable, but it will turn your deck into an eyesore. There are four main reasons to take advantage of a professional Englewood deck staining service.
1.) Staining your deck will make the wood more weather resistant.
The wood on a deck is constantly exposed to different weather elements. Even if it is a bright sunny day, your wood is taking a beating from the sun. Heavy rains can cause the wood on your deck to be moist.. Snow and ice will cause the wood of a deck to freeze. During the New Jersey winter months, this means it could stay frozen for several days. This is not good for any type of wood as it locks in the moisture. Moisture will soften the wood and increase the decaying process.
Adding a nice coat of stain to your deck is a great way to protect your wood from these weather elements. A professional Englewood deck staining contractor will provide you with weather resistant stain options in a variety of colors. These stains will help keep your deck strong throughout all the seasons of the year.
2. ) Staining your deck will improve the appearance of your deck.
While untreated wood can look decent when it is first installed, overtime the wood will turn a gray, rotting color. This will not only limit the use of your deck, but cause your deck to be an eyesore in your back yard.
Adding a deck onto the back of your house can significantly increase the resale value of your home, but a deck requires proper care. If you allow your deck to go unstained, the result could make your home less marketable.
3. ) Your deck can be stained to match the other wooden feature of your house.
A home already has several different wooden features around it. For example, your home might have a porch on the front or wooden trims around the roof. More than likely, this wood is already the shade you want for your home. A professional staining contractor will be able to match the new stain of your deck to your existing wooden features. This will create a more uniform look for your house, and it will really enhance the other wooden features.
4. ) There are eco-friendly staining options available.
If the only thing stopping you from staining your deck is the fear of the chemicals used in the deck staining process, there is a solution to the problem. There are now eco-friendly stain options available to the residents of Englewood and the surrounding areas. These eco-friendly stains will stain your deck just as efficiently as regular stain, but they are low in VOC's, which can cause harm to the environment.