Painting Tips For Your Child's Room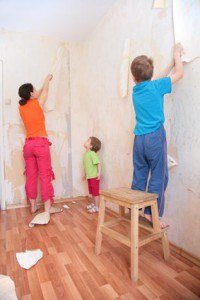 When you're planning to repaint your child's bedroom or playroom, there are things you'll want to think about in advance that will make a difference for your child and for your pocket book.
There's one particular thing you need to be aware of in order to get the most out of the current change you're making, and that is that your child will grow out of the changes you're making now in their room.
Changes are great, and as your child grows you'll want to be sure the room or play space can be converted into a more mature space. Since changing a room involves different furnishings, decorations, and functional elements, the color of paint you choose now can easily be used for several different chapters in your child's growing years.
Many parents start off with bedroom colors meant for babies, with all the cool decorations or design elements a baby would love to look at. For instance, bears, sheep, umbrellas, ducks, and more help to keep your baby amused while in the room. But they do little for a child entering the next phase of life, which would be around age six or so.
You want a solid base to build upon when decorating now, and that's going to be your choices in wall paint. Decorative elements can all be changed as your child matures, matching the current stage of their life as they develop into adults.
But in order to help you keep from having to repaint every three to five years, which go by really fast by the way, the original choices you make now can be tailored to easily convert.
For now, you want colors that are great for a baby as well as a toddler, and can possibly extend into some of those prepubescent years. For instance, green is a great color, but there are tones and shades of green that exude maturity whereas the more pastel greens speak of babies and toddlers. Choosing something that's close to pastel but has a little more spark to it is better for an older child as well as a baby.
Keep the decorations like teddy bears as added on elements and not something painted onto the walls and you'll have less trouble later using the same wall color as your child grows.
With the base of the right color of green paint, the room can convert in a few years with just a few changes in furnishings and decorations.
When your child becomes a teenager for the first time, it's a great time to give them the present of an updated room. All you'll have to do for remodeling your teen's room then is to repaint it in a more mature color choice.
At this point, your child is probably begging to be treated more like an adult. And while you won't want to give them the style of furnishings you'd put in your home office, like rich ornate cedar furnishings, you do want to give them more mature looking style.
Their room and space can later be converted once again after they leave home, and if you've chosen the right color of paint that's durable and high quality, you'll probably not even have to bother repainting it. Just switch the room over with the furnishings meant for guests or for your new craft room and you're set.
Keeping in mind that changes can and will happen is the right way to begin planning your child's room remodeling. With just a few changes along the way, the paint you apply now can last through more years than if you're just making choices for now. So think long-term and choose wisely when it comes to your painting options!